Ride report: First solo trip, that was easy... July 16-17, 2006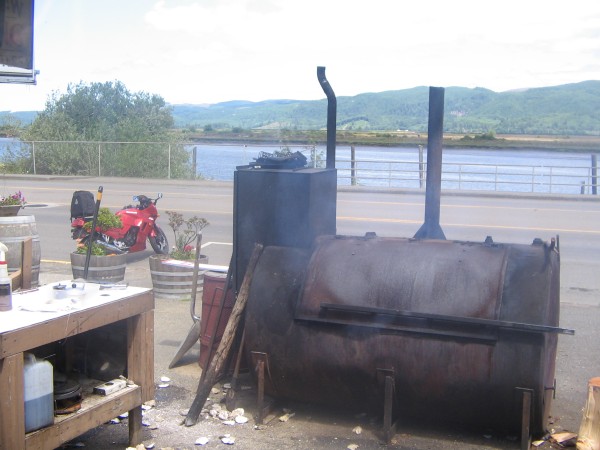 I took my first real solo trip this weekend. Bri and Lark invited me
up and we went to Jim and Barb's movie night. I decided to go the long
way.  I had a great time and never even got close to getting lost.
Being my first time planning a route I chose more conservative roads.
I was concerned about getting lost. I wanted to see some new roads and
areas I hadn't seen before and I did. It was really windy though and
not as twisty as I was hoping for. I think Gustavo has spoiled me. He
has planned just about every fun route I have taken and now I really
appreciate that skill more.

I left at 9:30am on Saturday. Up I-5 to Kelso. I took Hwy 4 over to
Hwy101.  I was riding at slower pace than I would normally partly
cause of the wind but also to avoid getting any tickets. I actually
liked 101 a little better than 4 cause there were a couple good turns
in it. But for the most part the roads on the whole trip were a lot
straighter than I wanted. Luckily the only car club ride was going the
opposite direction on 101. I had lunch in South Bend around 12:30. Raw
oysters and a salad. They had a grill but I figured fresh oysters this
close to the ocean had to be good. I was wrong. They were OK but
probably would have been better grilled. I think all the great oysters
I had in Vancouver BS has spoiled me. Then gas and back on the road. I
got stuck behind some Harley people and I saw one good turn coming up
so had to dispatch of them before I missed one of my few opportunities
to lean. I did quite a bit of passing on this trip, Lucky does quite
well at it if I prepare.

The roads closer to their house were more fun and I bet there are some
nice rides around there. Next time Ill try the FS roads near Helens
and give myself a whole day. I got there at 2:15 like I wanted.

We all hung out drinking a couple beers while Lark washed her car and
Bri gave me a tour of their place. They offered to help show me I can
easily take a passenger. The hardest part is them getting on and off.
Especially since I can only touch balls of feet. So first Lark got on.
It was fine. A little hard on my toes for a second but no biggie.
Would need to get the ex500 shock put on though if I really want to
take a passenger. Then Bri. Again very easy. As long as they keep
their weight going up and down instead of side to side when getting on
it should be fine. The funny thing was Bri could flat foot from the
passenger seat and I was still on balls of feet!

Then off to Jim and Barbs around 4. I forgot to bring my camera so no
pictures of the party. It was fun and I got to put a few more faces to
names. Jim and Barb have a great place and the goats were very cute.
We had a delicious dinner and Barb made the _best_ indian curry tempeh
I have ever had (still hoping to get the recipe). The movie started
around 8:30 or 9 I think. I had already seen worlds fastest indian
once but it was just as good the second time. I really love that
movie. Jim had a great setup too.

Sunday morning I slept in a little. Then we had breakfast and hung out
with the Parrot. They weren't in the mood to ride like we had thought
we might. I also wasn't in the mood to take the same route home so I
went home via I-5. Before leaving they showed me how to play World of
Warcraft though. It was fun and I started to get the hang of it. Then
I hit the road. Left their house at 12:10 and arrived at my house at
2:30. Much faster that way. No one tried (too hard) to kill me this
time.

It was fun and they even managed to convince me to take vacation time
and go to the Gather for the first time this year.

First Solo Trip Pics

Hanna

<--- Back to the reports listing